An "Unsung Hero" in the Australian Stockman's Hall of Fame.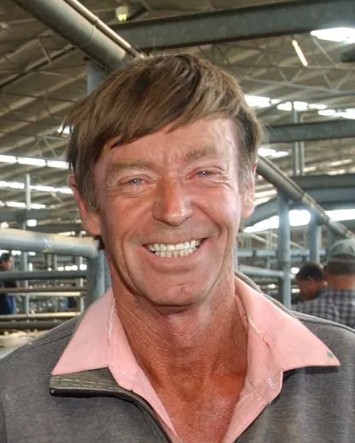 Graeme Leslie Stone passed away in Shepparton, Victoria on 9 February 2020 after a battle with pancreatic cancer. He was born in Mooroopna, Victoria on 26 March 1951, the second son of Luther and Marjorie Stone and was a well-known stock agent in Central Victoria and Southern New South Wales. More than 480 people attended his funeral which was held at Congupna, Victoria on 20 February.
At the time of his death Graeme was unaware that he had been named as an Unsung Hero in the Australian Stockman's Hall of Fame. His story is set out in an article by Spencer Fowler Steen in "The McIvor Times" published in Heathcote, Victoria on 20 February 2020.
Local stock agent Graeme Stone has become the first person from Greater Shepparton to be named as an Unsung Hero at the Australian Stockman's Hall of Fame. Mr Stone was nominated by his long-time friend and business partner Ian McKenzie, who remembered him as an extremely hard worker known by people far and wide. "He worked hard, he was down to earth, and he loved his family," Mr McKenzie said. "He would have been tickled pink to find out."

Nicknamed "Stoney" by his mates and family, Mr Stone was known for miles around by people from Wagga to Swan Hill and Mansfield to Bendigo, helping farmers with their sheep and cattle.

Born in Mooroopna, Mr Stone owned farms with his brother and father in Bunbartha for most of his early years, setting him up with the skills to become a stock agent. After working at various stock agents until 1995, Mr Stone joined Elders Shepparton where he became one of their primary agents, with a wealth of knowledge about Australia's beef and sheep industries.

Mr McKenzie remembered a time when Stoney unloaded over a million dollars' worth of sheep on to a boat bound for Melbourne over three days. "What he did was hard work — he was in the rain, the heat and sheep shit," Mr McKenzie said. "You'd ask him how he was going, and he'd reply 'goodly' with a grin. "You'd always have a laugh with him about it."

Mr McKenzie said his friend had a keen eye for artwork, his house littered with historical gates, photos and paintings. "He was a great welder and painter, too, something I found out when we developed the Numurkah apartments together," he said. "He was a real blokey-bloke who liked his fishing, his smokes and his beer."

Always a keen sportsman, Mr Stone played and was the president of his local footy club, also playing tennis at Bunbartha

The Unsung Heroes project is a biographical database celebrating men and women who, although not often given coverage in history books, were vital to the pioneering spirit of Australia, according to the Australian Stockman's Hall of Fame and Outback Heritage Centre.