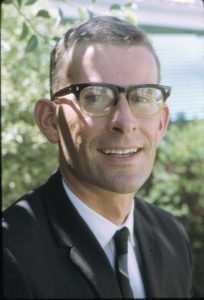 Kenneth Graham McIntyre, born 6 October 1940, was the son of Oliver William Keith McIntyre and Ina Margaret nee Stone, the great-granddaughter of Thomas and Ann Stone. He died in Newcastle NSW on 16 March 2005.
The following Obituary was published in the "Newcastle Herald" on 11 April 2005.
He was one of BHP's leading lights in more ways than one.
On Wednesday, March 16, a large group of friends and work colleagues overflowed the Newcastle Crematorium to farewell Ken McIntyre.
He was a cheerful and humorous person who was appreciated and admired by all for his intellect, modesty, uncompromising integrity, and work ethic. Ken's early schooling was at Moe in Victoria, which was then followed by High School at Yallourn and Geelong In his matriculation year he obtained honours in all subjects, thereby becoming dux of his year. In the same year—1957— he was also the top student in Victoria.
Proceeding to Melbourne University, Ken obtained a master of science degree in nuclear physics. His scholastic achievement led to an award of an overseas scholarship from "The Royal Commission for the Exhibition of 1851" to study for a PhD in solid state physics at Cambridge University.
Ken graduated from Cambridge in 1966 and as he did not have much interest in an academic career, he was recruited by BHP House in London to work in the fledgling computer field a Newcastle Steelworks.
Ken's lifelong interest in computing was initiated and nurtured while doing his science studies on the cyclotron at Melbourne University, which was controlled by one of the earliest installations of a computer in Australia. Interestingly, this early generation of computer used a mercury delay line for memory instead of the usual RAM of today.
Ken started work at BHP Newcastle Steelworks within the Process Control Section, and was involved with installation of the first two-process control computers at the steelworks. The project was an outstanding success both technically and financially and in turn paved the way for an ever increasing involvement of computers in all aspects of production and process control at the steelworks.
Ken's career in BHP proceeded through various positions until in 1990 he was appointed as facilities manager Newcastle with responsibilities for hardware, mainframe support, communications, mid-range support and computer operations. In his position he was highly respected for his intellectual ability, thorough preparation, rigorous examination of available facts, and ability to complete tasks in a professional manner. Ken provided a strong mentor role to all those who had the opportunity to work with him.
Ken was a very "hands-on" style of person,leading by example. But he liked, more than anything else, to challenge himself in problem solving. He once told a colleague that he was happy if he could get one really good problem each day and resolve it. Nevertheless he was forever willing to do the less glamorous jobs and the backgound work necessary to keep things running smoothly in both his work life and within any organization he had an interest in.
Ken started sailing after he joined BHP and it became his main recreation. He developed a passion for it, without becoming a greatly competitive sailor. He thoroughly enjoyed sailing, and just being out there "on the water". When he could say, "It was just lovely, gee it was magic" you knew it was a good day on the water, no matter whether he came first or last.
After he retired in 2000 Ken increased his involvement in the Regional Museum together with the Friends of Supenova. He rediscovered his love of physics and participated with others in the development of several of the current exhibits at the museum. No matter what the task or role, Ken could never put in a halfhearted effort and would apply himself diligently and effectively until success was achieved.
Ken never married and is survived by a sister, Helen Edwards in Western Australia. He will be sorely missed by a legion of friends and colleagues.