At the moment I know of only four family members who had some involvement with the Boer War. If you know of any others please let me know so that they can be added to the list.
Hamilton Fleming Hope
Hamilton Fleming Hope (1874-1949) was one of the nine sons and three daughters of John Thomas and Lucy Elizabeth Hope and his father was a grandson of Thomas and Ann Stone.
A document which has been uploaded to "Ancestry" states that he was a Boer War Veteran and remained in Africa. Unfortunately I have not been able to find any Australian records to confirm this.
The document goes on to mention that he was a well known Durban figure and died unexpectedly after a short illness at Parklands Nursing Home in Durban, aged 75.
It suggests that he came to South Africa in 1894 and after a short stay in Johannesburg he married Grace Chester there (on 7 March 1898). He then settled in Durban where he became engaged in the wood turning business from which he had recently retired.
"He will probably be best remembered for his 40 years service to the Umbilo Church and Sunday School. He was church secretary and Senior Deacon, and it was largely due to his personal effort that funds were raised to build the new church at Umbilo (a suburb in central Durban) in 1932."
On Wednesday 13 December 1899 The Mercury in Hobart published extracts from a long letter written by H. F. Hope which outlined the effect which the war was having on the people of Johannesburg and Durban.
"Personally, I may say that I know Johannesburg from Jeppes Town to Mayfair, the two extreme ends. The only place that one has not a chance to know is the fort of which the Boers boast so much. It is situated on high ground, and which, perhaps, if called upon could flatten Johannesburg in a very short space of time; but at present they have only one 14-poundcr gun there, having taken three of their best German make to the front, and these are in the hands of the British
"There has been unrest in South Africa since the time of the Jameson raid, and having been a town guard during that time, I had just about enough of it. Johannesburg is now deserted. Thousands of people have been leaving daily, until now if English is spoken in the street you are stared at. The people remaining are, as near as I can find out, from 5,000 to 6,000 only, who are either Dutch or some foreign people. Even the prisoners have been let go-some of the worst types of men…"
"Here, in Durban, I have had a walk round, and met with men, massed together, devouring the morning paper (the Natal Mercury), looking wretched and dirty. A drizzling rain was falling, and I was surprised to see so few overcoats. I stopped at a group of four men, three of whom I knew, and all three told me that they worked together in Pretoria, and had to leave the job and get out, without having time to go to their homes, even to get their coats. The fourth had his coat stolen in Delagoa. I asked them where they were living, and one of them informed me that they lived at the 'Wild Beast Show,' or, rather, hungry man show at Lord's Grounds. I made an appointment with him to go and see them have dinner.
"I walked into the town gardens, similar to Franklin-square, Hobart, only larger, and notwithstanding the rain, found every seat was full, and also a large tent that was erected for the shelter of refugees. There were men even lying on the wet ground, looking most miserable. Everyone had some pitiable tale to tell, some about their wives, whom they had sent to other places, thinking of following them later on, but were rushed down here by those cruel, wretched Dutchmen, severed from those they loved for no telling how long."
Garnet John Hope
Garnet John Hope (1881-1946) was a younger brother of Hamilton Fleming Hope and enlisted in Hobart on 7 February 1902 and described himself as a Mechanical Engineer.
He was part of one company of Tasmanians who with three companies from New South Wales and one from Queensland constituted the Third Battalion Australian Commonwealth Horse.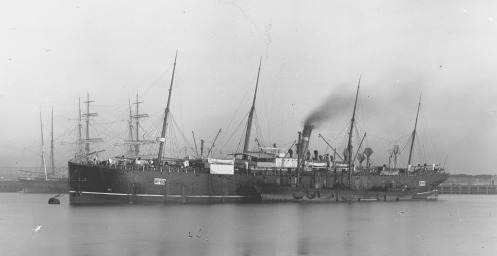 They left Hobart on 8 April 1902 on the transport "Englishman" and arrived at Durban on 10 May and entrained for Newcastle 340 km to the north-west where they joined the rest of the Battalion at a hill known as Kitchener's Kop.
They were part of about a thousand troops from Australia and New Zealand who had been called for after the British defeat in March 1902 at the Battle of Tweebosch. However in the meantime negotiations between Lord Kitchener and General Koos De La Rey brought an end to fighting and the signing of the Treaty of Vereeniging on 31 May 1902.
The troops never saw any conflict and returned to Australia on the "Drayton Grange", arriving in Tasmania on 9 August 1902 after visiting Albany and Melbourne.
Private Charles Allen Lyon
Charles Allen Lyon (1875-1961) was one of the seven sons and six daughters of Henry Barker Lyon and Oceana Ellen (nee Rose) and his mother was a granddaughter of Thomas and Ann Stone.
He was a member of the Third (Bushmen's) Contingent which was formed in Perth in February 1900. The formation of such contingents was a response to the guerilla tactics of the Boer mounted infantry which had proved so effective against the British troops who were more used to "set-piece" battles.
To be accepted the applicants had to receive a bushman's certificate from a selection committee as well as pass a medical examination. They then joined a training camp at Karrakatta where they were drilled in the skills which would be needed in the field.
The contingent of about one hundred officers and men under the command of Major H. G. Vialls left Fremantle on 13 March 1900 in the transport "Maplemore"and arrived at Beira in Portuguese East Africa on 18 April 1900. They then crossed Rhodesia and entered the Transvaal from Mafeking.
One significant engagement at this time was the Battle of Koster River fought on 22 July 1900 on the road between Rustenburg and Elands River in western Transvaal. After the Boers had cut off an important supply route a detachment of 270 Australian Bushmen (from New South Wales, Queensland, Victoria and Western Australia) was sent with orders to 'brush aside' the enemy and return with a convoy from Elands River.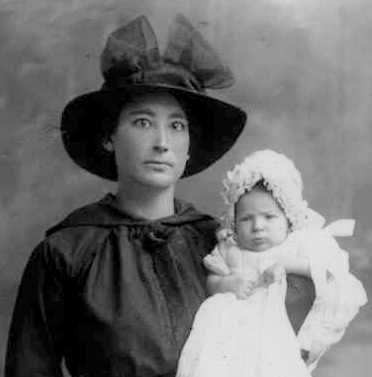 Ambushed by the Boers there was a heated engagement until the arrival of a relieving force and the withdrawal of the enemy. Charles Allen Lyon was reported as missing in action at the time but was able to rejoin the Bushmen.
He did not return to Australia on 28 May 1901 in the "Morayshire" with the Bushmen's Contingent and on 12 June 1917 he married Elizabeth Johanna Ungerer in Pretoria. It was not until 1933 that he returned to Western Australia with his wife and six children and settled at Donnybrook where his mother was living at that time.
Trooper Joseph Ithiel Lyon
Joseph Ithiel Lyon (1880-1963) was one of the younger brothers of Charles Allen Lyon. He was accepted for service in South Africa with "D" Squadron, the Western Australian Unit of the 8th Battalion, Australian Commonwealth Horse, having enrolled at Kalgoorlie with No. 3 Troop (one of four in W.A.).
The Squadron embarked on the transport "St Andrew" at Fremantle on 2 June 1902 and arrived at Durban on 19 June 1902. It included 4 officers, 116 others and 120 horses. However the war had already ended with the signing of the Treaty of Vereeniging on 31 May 1902 .
Many members of the 8th Battalion returned to Australia in the following months but before he returned Joseph married Petranella Johanna Rheda some time in 1903.