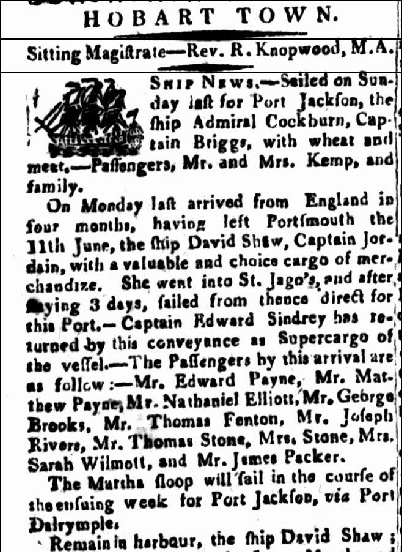 This notice in the Hobart Town Gazette for Saturday 16th October 1819 announced the arrival of Thomas and Ann Stone in Van Dieman's Land together with Ann's brother, Joseph Withers (mistakenly referred to as Rivers).
The couple were in their very early twenties and expecting their first child. Although they were bound for Port Jackson in New South Wales they were given permission by Lieutenant Governor Sorell to cut short their journey and settle in Hobart.
Thomas and Ann's descendants are now found spread widely around Australia and it is important that the story of this family is compiled and shared by its members as we prepare to celebrate the bicentenary of their arrival in 2019.
I am aware that many other family members are busy doing research and I hope that we can share some of our discoveries.
Alexander E. H. Stone (Great-great grandson of Thomas and Ann)
The picture of Hobart at the top of the page is taken from a 'Picture Book for Children' published in 1821 by the German publisher and patron of the Arts, Friedrick Justin Bertuch. For a time the Stones lived at the end of Liverpool Street in the bottom right-hand corner of the picture.
Send a Message